Charging into the new year is a way to look at your personal life and your inn. For yourself, what areas of your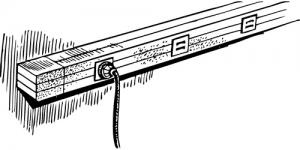 life would you like to improve? Decide on one tiny step you can take in those areas that will move you forward to more joy, success, good health, and all the things you may want more of in your life.
For your inn, I'm talking about electricity. As technology expands, your guests bring with them higher needs for connectivity. They have phones, tablets, and computers to charge. They may also have fitness bands, toothbrushes, curling irons, CPAP machines, and speakers, to name a few items, that need electricity. Do you have enough outlets in your guestrooms to accommodate those items?
Are those outlets readily available to your guests? The number of clock radios and lamps I've had to unplug to make room for my power strip so I can plug in my various devices is frustrating. Do your guests have to rearrange furniture, or crawl under the bed, to access the electric outlets you have? Let me challenge you to look at your rooms with a fresh eye with electric outlets in mind.
Some ideas I've seen implemented to increase the number of outlets a room has include bedside and desk lamps with both electric and USB outlets, power strips attached to the side of the desk, and multi-outlet surge protectors at the wall. Next time you renovate or redecorate a room, consider augmenting the number of electric outlets to support the increased demand for charging in the guest room.
There's another area you can charge up in. It's time to install a charging station, or stations, for electric cars. This is a charging option that you can use to attract guests and business. By "guests and business", I mean overnight guests, restaurant diners, spa goers, and shoppers. As the number of electric cars (presently including Nissan's LEAF, Chevrolet's Bolt EV & Spark, Tesla, BMW i3, Ford Focus Electric, smart fortwo electric, Mitsubishi i-MiEV, Kia Soul EV, FIAT 500e, Volkswagon e-Golf, Cadillac's ELR, Mercedes-Benz B250e, Toyota's Mirai) on the road increases, the need for places to "fuel" those cars increases. And it can be a profit center, charging non-guests for the privilege of fueling up. When you install a Destination Charger, not only do you have advertising and bragging rights, but you also have access to websites (ex: PlugShare.com and BlinkNetwork.com) and maps that list all the Destination Chargers in the U.S. That's free, or at least inexpensive, advertising for you, and exposes you to people who might not otherwise know about you.
It's a new year, and with that come new ideas and energy (pun intended) for improving yourself and expanding your business. Challenge yourself to take new steps towards goals you seek. Add value to those guests you already have while at the same time attracting new guests. Nurture new ideas, and let this energy charge you into new ways of thinking and acting personally and professionally.
Charging into the new year will foster delightful results.